Are you leveraging the full potential of your brand's social media presence?
Now, more than ever, social media marketing is a powerful weapon in a brand's arsenal, driving immense engagement and customer loyalty. The online world is packed with billions of potential customers, each scrolling, liking, and sharing, waiting to discover your brand.
The power of social media marketing for brands is undeniable. It is no longer merely an option but a necessity for any business, regardless of size or industry, aiming to thrive in today's digital landscape. But how can you ensure that your brand stands out in the bustling social media crowd?
The answer lies in the intelligent use of social media marketing tools. These tools simplify your digital presence management. With these top social media marketing tools, you're not just surviving but winning the digital game.
So, without further ado, let's explore the best social media marketing tools for businesses seeking to achieve insane engagement.
Table of Contents
Understanding Social Media Marketing Tools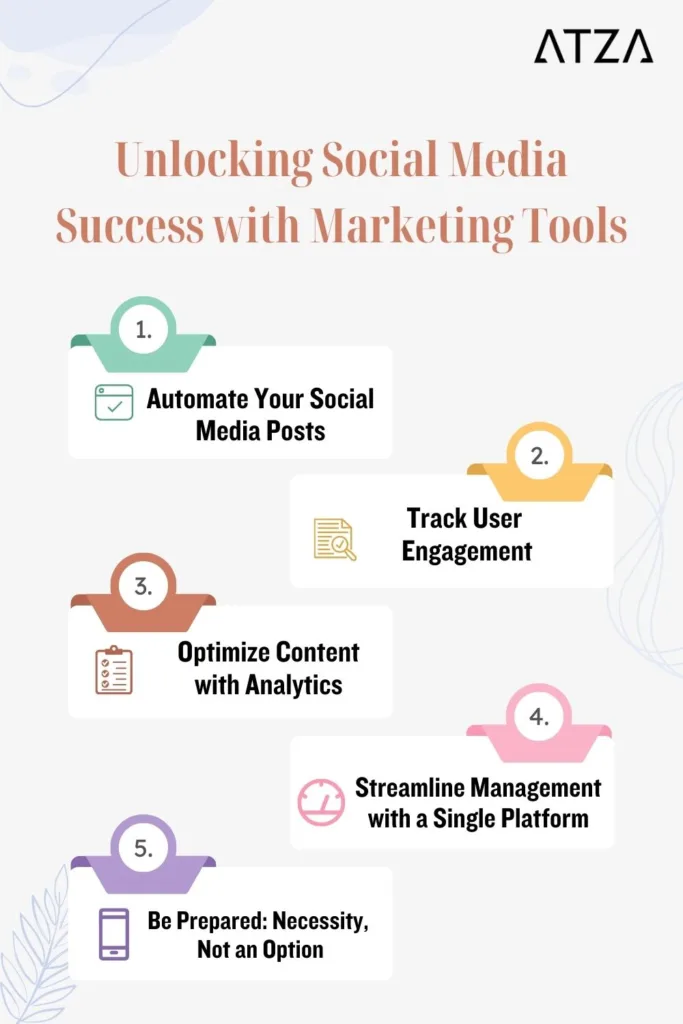 Social media marketing tools are software platforms and apps designed to enhance a brand's social media engagement. They offer a wide range of functionalities, such as content scheduling, analytics, customer engagement tracking, and wider coverage of social media platforms.
Social media marketing tools offer numerous benefits to businesses. They automate social media posts, ensuring regular content updates. These tools track user engagement, providing key insights for the target audience. This data-driven approach empowers businesses to design effective marketing strategies that drive customer engagement.
In the competitive digital landscape, brands need a streamlined online presence. Social media marketing tools enable managing multiple accounts from a single platform, saving time and improving efficiency. Investing in these tools is no longer an option; it's a necessity for brands seeking insane engagement and a competitive edge.
Top Social Media Marketing Tools for Insane Engagement
Let's now delve into the top social media marketing tools that will take your brand engagement from average to insane.
Hootsuite: A Comprehensive Social Media Marketing Tool
Hootsuite stands as one of the top social media marketing tools for businesses seeking to boost their online engagement. Its wide array of features makes it a reliable choice for managing and maximizing social media activities.
Key Features and Benefits
Multi-social network integration for managing content across multiple platforms from a single dashboard.
Seamless content scheduling, publishing, and management.
Easy team collaboration with task assignments, collaborators, and post editing.
Content curation capabilities for repurposing existing content from within the organization and trusted external sources. This reduces the pressure to generate fresh content and keep the audience engaged with the brand.
Tips for Maximizing Engagement
Understanding the 'post anatomy' is key to leverage Hootsuite for maximum engagement. Be mindful of the purpose and value of each post element, tailoring your content to align with these insights. Remember, there's no one-size-fits-all approach to posts.
Additionally, adapt your strategy to fit the unique characteristics of each social media platform. Recognize that user behavior varies across different networks, and adjust your posts accordingly to reach more customers effectively.
Lastly, use Hootsuite's content curation feature to keep your content fresh and relevant. Repurposing and resharing valuable assets will keep your audience engaged and affirm your brand's authority in your niche.
In conclusion, Hootsuite's robust features and easy-to-navigate platform make it one of the best social media marketing tools for businesses looking to enhance their online presence and engagement.
Buffer: A Powerful Tool for Boosting Social Media Engagement
Buffer stands out as an exceptional social media marketing tool, ideal for businesses seeking to cultivate substantial engagement across their social media platforms. This versatile tool allows teams to collaboratively plan content, streamline posting schedules, and manage engagement strategies seamlessly.
Features and Capabilities
Buffer's comprehensive suite of capabilities can significantly enhance a brand's social media presence. Its feature to draft posts and gather team feedback before scheduling ensures that the content aligns perfectly with the brand's message. Moreover, the In-depth Analytics and Reports feature provides brands with a profound understanding of their audience demographics and the performance of different post types. This valuable insight can inform future content strategies, ensuring the brand remains relevant and engaging to its audience.
Popular Brands Using Buffer
Several brands have harnessed the potential of Buffer to boost their social media engagement. For instance, according to a Stackshare listing, brands like Stackshare, Accenture, Evolution 7, and many more utilize Buffer in their processes. By utilizing Buffer's features, these brands have successfully leveraged social media as a powerful tool for customer engagement and brand promotion.
In conclusion, if you want to elevate your social media marketing strategy, Buffer provides a clean, user-friendly platform filled with robust features—making it one of the top social media marketing tools in today's digital landscape.
Canva: A Game-Changer for Social Media Content Designing
Canva is undeniably one of the best social media marketing tools available today, which businesses of all sizes and individuals alike can leverage. This versatile platform is a godsend for those with little to no graphic design experience, offering a user-friendly interface packed with powerful features. From creating attention-grabbing social media posts to professional infographics and resumes, Canva's scope is comprehensive, making it a top social media marketing tool for businesses.
Enhancing Social Media Engagement with Canva
Canva's primary strength lies in enhancing social media engagement
Over 50,000 customizable templates for captivating graphics
Drag-and-drop feature for easy design usage and work
Access to free stock photos, icons, and fonts
It boasts a UI that is easy to understand and use
Transforming Ordinary Images into Compelling Visuals
Additionally, Canva's advanced photo editing features empower brands to turn ordinary images into captivating visuals that capture attention and drive results. With the ability to blur, add text, create collages, and design photo grids, Canva enables the creation of exceptional visuals that enhance engagement and significantly increase the likelihood of content being shared, liked, and commented on.
In essence, Canva is not just a design tool but a gateway to increased brand visibility and interactions on social media platforms. With its user-friendly approach and comprehensive features, Canva indeed reserves a well-deserved spot on the list of top social media marketing tools for brands looking to enhance engagement exponentially.
Empower your dreams and your home with "7 Small Business Ideas for Women Sitting at Home With Low Investment".
SproutSocial – A Powerful Tool for Insane Engagement
SproutSocial stands as one of the best social media marketing tools for businesses seeking to elevate their engagement levels. This dynamic platform offers a myriad of unique features designed specifically to streamline your social media management process and amplify your outreach.
Features and Benefits of SproutSocial
Inbuilt capability to interact with ad comments alongside organic content.
Connect your Facebook Ad Account in Sprout to turn it into an all-in-one hub for social interactions.
Smart Inbox feature for a neat, spam-free commenting environment.
Easily delete or hide spam comments on your Facebook Page or Instagram.
You can also leverage SproutSocial for insane engagement by customizing your message tracking with Tagging. This feature allows you to filter posts by author, text, and tags, giving you a deeper understanding of what resonates most with your audience.
Also, ensure to regularly export your Sent Messages Report to monitor your posts' performance during specific reporting periods. These practices, coupled with diligent interaction with both ad and organic comments, will undoubtedly skyrocket your brand's visibility and engagement.
Popular Brands using SproutSocial
SproutSocial has proven its worth in real-life scenarios too. Brands like Evernote and Trello have seen significant improvements in their social media engagement. Evernote, for example, witnessed an 80% increase in the number of customers helped on Twitter per week using Sprout Social's Chatbots and collaboration tools. Similarly, Trello experienced a 16% increase in @TrelloSuppor response rate and was able to maintain a 97% reply rate to customer service tweets on Twitter.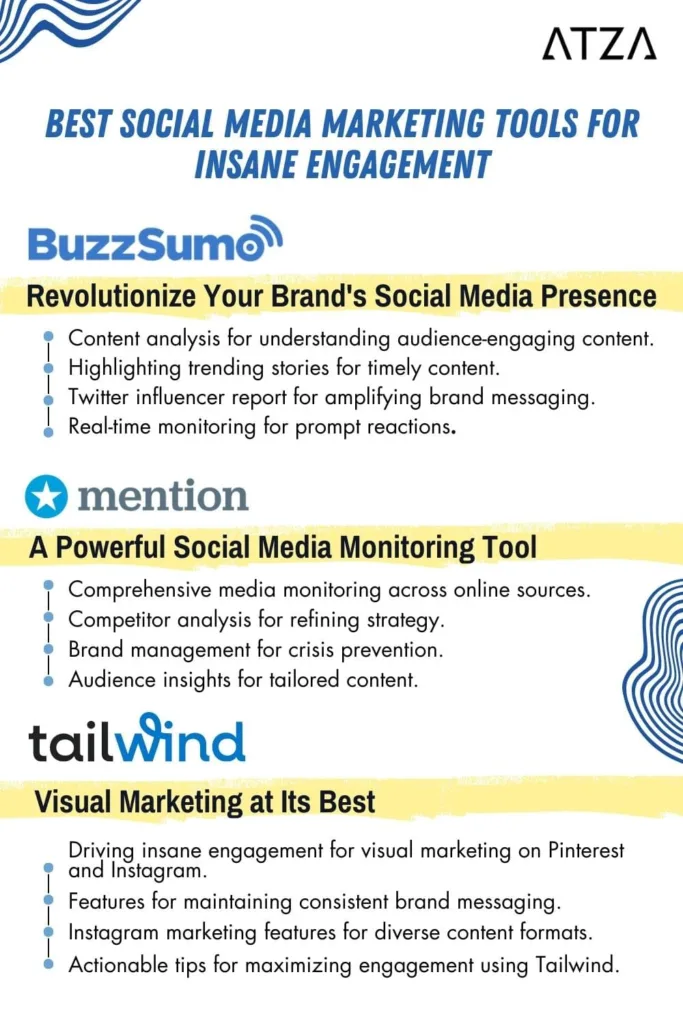 BuzzSumo: Revolutionize Your Brand's Social Media Presence
BuzzSumo is among the top social media marketing tools that can fundamentally transform your brand's online visibility and engagement. As a comprehensive platform, BuzzSumo offers diverse functionalities, from content analysis and trending topic identification to influencer discovery and real-time monitoring.
Features and Benefits of BuzzSumo
With BuzzSumo's content analysis report, brands can gain a deep understanding of audience-engaging content types. Optimal use is identifying preferred content types and developing a marketing strategy around these insights.
The tool's ability to highlight trending stories on social media complements platforms like Google Trends. Brands can stay updated, ensuring relevant and timely content for enhanced engagement.
BuzzSumo's Twitter influencer report is another powerful feature. Identifying and collaborating with influencers who have a strong retweet or reply ratio can amplify brand messaging, driving engagement.
Finally, BuzzSumo's real-time monitoring feature allows brands to keep a pulse on keywords, competitors, and brand mentions. This tool provides real-time insights or weekly digests, enabling prompt reactions to changes in the social media landscape.
In summary, BuzzSumo is a robust social media marketing tool that can empower your brand to drive insane engagement. Remember to leverage all of its functionalities for maximum benefit: analyze content trends, stay updated with trending topics, identify and collaborate with influencers, and monitor your brand's social media presence in real time.
Mention – A Powerful Social Media Monitoring Tool
Mention is undeniably one of the top social media marketing tools for businesses seeking insane engagement. Here are some key factors to consider when choosing Mention as your primary tool for social media marketing:
Comprehensive Media Monitoring: Mention crawls extensive online sources, including social media, forums, blogs, and review websites. This massive data pool provides an in-depth understanding of audience reactions to your brand across the web.
Competitor Analysis: By keeping tabs on your competition, Mention enables you to measure their share of voice and refine your strategy effectively to stay ahead in the game.
Brand Management: Understanding how your brand is perceived online is crucial. Mention allows you to catch and respond to crises before they spiral out of control.
Audience Insights: Crafting a successful social media strategy depends on understanding your audience. Mention provides insights into key topics that resonate with your audience, allowing you to tailor your content accordingly.
Content Scheduling and Organization: Mention's multi-channel editorial calendar allows you to preview, organize, and schedule your content in advance, ensuring a consistent social media presence.
Client Management: For agencies, Mention offers insightful industry data that can give you an edge in managing your clients' channels and delivering custom reports.
BenQ, a satisfied Mention customer, has reaped significant benefits from the platform. With Mention's powerful crawling capabilities, BenQ monitors multiple sources, including social media, blogs, and forums. This enables effective online reputation management and real-time customer engagement. The integration of social accounts into the Mention dashboard streamlines customer query response and social media scheduling for BenQ. Here's the case study for BenQ.
In conclusion, Mention is a robust tool that can significantly enhance your brand's social media engagement. Its comprehensive features make it one of the best social media marketing tools available today.
Tailwind: Visual marketing at its best
Tailwind stands as one of the top social media marketing tools for businesses that primarily prioritize visual marketing on Pinterest and Instagram. With its suite of features, it is particularly adept at driving insane engagement for brands.
Key Features and Impact on Engagement
Tailwind's features allow for publishing content across Instagram, Pinterest, and Facebook in one post, while also saving drafts for later use.
The platform aids in maintaining consistent brand messaging across different social media platforms, which is crucial for engagement.
The in-built graphic design tool helps create visually appealing content.
Instagram marketing features such as regular posts, carousel posts, and Stories provide the freedom to experiment with diverse content formats and keep the audience engaged.
Tailwind's built-in link in bio tool is a game-changer, effectively driving traffic to your website and increasing the chances of conversion alongside engagement.
Actionable Tips for Driving Insane Engagement Using Tailwind
Leverage Tailwind's Hashtag Suggestions: Use the Hashtag Suggestions feature to find trending and relevant hashtags. This feature increases the visibility of your posts, which in turn, escalates engagement.
Save Hashtags: Tailwind's 'save hashtags' feature allows you to create a library of successful hashtags. Reusing these hashtags can help maintain or increase engagement levels.
Utilize the Communities Feature: Connect with multiple community members to boost your reach. More reach equates to more engagement.
Capitalize on Tailwind's Apps and Extensions: The availability of apps for web, Android, and iOS, along with extensions for Chrome, Firefox, and Safari, makes the tool accessible and easy to use. The more streamlined your social media management, the more time you have to focus on creating engaging content.
In sum, Tailwind is a comprehensive suite of social media marketing tools for business, perfectly equipped to drive high levels of engagement for your brand.
Conclusion
In conclusion, robust engagement is no longer a luxury but a fundamental need for brands striving to mark their footprint in the digital realm. Social media marketing tools like Tailwind offer an arsenal of resources to meet and exceed this need.
By emphasizing visibility, community-building, ease of use, and continuity of content, these tools have evolved into powerful allies for businesses. So, if you're out on a quest for insane engagement, the top social media marketing tools mentioned in this article are your best bet.
They are designed to turn your social media channels into thriving digital communities brimming with activity and customer interaction. Remember, in digital marketing, engagement is king, and these tools are the keys to the kingdom.
Frequently Asked Questions (FAQs)
Which social media management tool offers advanced analytics and in-depth insights?
Hootsuite is among the top social media marketing tools that offer advanced analytics and in-depth insights. It provides detailed reports on social media performance across multiple platforms. Moreover, it offers customizable reports, allowing you to focus on metrics that matter the most to your brand or business. So, for comprehensive analytics and profound insights, Hootsuite is the go-to tool.
What are the different types of social media engagement?
Social media engagement encompasses any user interaction with your digital content on various platforms. This includes likes, shares, comments, mentions, follows, and clicks on your posts or profile. Moreover, it also involves direct communication through messages or reviews. Every engagement is a potential touchpoint with consumers and an opportunity to enhance your brand's visibility and reputation.
How can Canva help brands create visually appealing social media content?
Canva, one of the best social media marketing tools, assists brands in creating visually alluring content effortlessly. It provides an extensive library of templates, fonts, and images, enabling brands to design unique and engaging posts. Additionally, with its easy-to-use interface, even non-designers can create professional-quality graphics, enhancing brand aesthetics and boosting social engagement.
How can Mention help brands manage their online reputation?
Mention, a powerful social media marketing tool for businesses, facilitates efficient online reputation management. It alerts brands when they are mentioned on any online platform, providing a real-time opportunity to respond and engage. Its robust analytics can also track sentiments and themes in these mentions, helping brands understand public perception and strategically adjust their communication efforts.
How many types of social media tools are there?
There are primarily three types of social media marketing tools. Visual creation tools, like Canva, help create engaging visuals. Listening and engagement tools, such as Mention, monitor online mentions and facilitate customer interaction. Finally, analytics tools provide data on post performance and audience demographics, helping brands adjust their strategy for maximum engagement. When utilized effectively, these tools can significantly boost a brand's online presence.