Are you looking for the best podcasts for entrepreneurs?
Are you also intrigued by the podcasts in trend and looking to enhance your knowledge and exposure to the vast amount of information shared?
To become an entrepreneur and build your own business requires an individual to possess the right knowledge.
Beginning from management to leadership and to strategizing, there are multiple facets of a business.
To make your entrepreneurial journey easier, you can ditch watching those never-ending videos on Youtube and switch to listening to the best podcasts for entrepreneurs.
What is a Podcast?
When we talk about podcasts, it refers to something which is an appropriate fit for all. Whether you wish to seek in-depth knowledge about science fiction or just a little bit of guidance for your business, podcasts are something that will surely help you become an ideal entrepreneur.
For this, you have come onto the right article. Herein, we have gathered and mentioned a list of top entrepreneur podcasts, exclusively for you.
Ready to know about the best podcasts? Keep reading the blog post!
The Best Podcasts For Entrepreneurs In 2023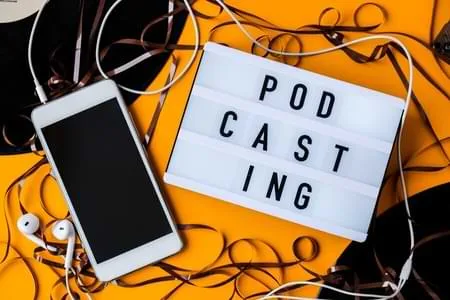 Reply-All
This is one of the best podcasts for entrepreneurs and is a long-running series that began with the exploration of the internet and technology altogether.
Being an IT podcast, it covers much more beyond that.
'Reply-All', made the best entrepreneur podcasts on Spotify which is highly known for its consistency and excellence in tackling everything. It is known to take a toll on the most common annoyances and troubles of the modern age.
The episodes have been varying from serious investigative journalism to numerous lighthearted discussions.
For all the newbie entrepreneurs, this can be your kickstart!
The Startup Stories-Mixergy
Mixergy is yet another good podcast for entrepreneurs where a few well-known companies were featured but many of his interviews involved really underrated companies as well.
This podcast show features interviews with successful founders, and business leaders thus, helping you seek genuine notes, for real.
If you are looking for the best podcasts for aspiring entrepreneurs, then this is the one you must go for!
All the episodes shall add a refreshing touch to your business talk as a whole, where the experiences of such individuals including their successes and failures will help you go a long way.
The major goal of this podcast is to inspire, educate and aspire by providing quality insights into the world of startups.
Entrepreneurs on Fire
As much as the name implies, this is an ideal and by far amongst the top entrepreneur podcasts. This features interviews with successful entrepreneurs and business leaders focusing on their personal as well as professional journeys.
Entrepreneurs on Fire involves failures, challenges, growth, and unique strategies alongside.
This is not just a podcast session but also levies emphasis on other content such as Q&A sessions with listeners, where the host himself shares his personal insights and experiences with other industry experts.
If you are looking for the best small business podcast, you know where to lay your hands at. Seek practical advice, motivation, and immense inspiration to grow your own business.
Smart Passive Income
Yes, it is exactly how it sounds to you! Smart Passive is the best podcast for small business owners and for those who are internet-savvy such as those interested in blogging and online businesses.
This podcast covers a wide range of topics related to online entrepreneurship, affiliate marketing, digital products, online courses, e-commerce, and more.
It is a perfect amalgamation of interviews with successful entrepreneurs as well as solo episodes sharing valuable insights by the host. 
The practical tips mentioned here about sales funnel, generation of traffic to your website, and attracting audiences makes it a bucket full of information.
The objective of this podcast is to assist its audience in building a way of life that enables them to work fewer hours while having more leisure time with their loved ones and pursuing their interests.
Great Women of Business
Ladies, get ready to take notes! We have found one of the best entrepreneur podcast on Spotify, just for you!
Herein, each episode of this podcast features a variety of business-savvy women who have battled sexism and have come forward stronger and better.
Each of its 12 episodes weaves stories of entrepreneurship with business principles, and women discussing their career paths along with providing unique advice for all.
This podcast can be chock-full of good advice for every aspiring business woman.
The goal herein is to inspire and empower women as it covers a wide range of topics that involves marketing, leadership as well as personal growth!
Here Are Some Of The Frequently Asked Questions (Faqs), You Must Go Through To Know More About The Best Podcasts For Entrepreneurs
What is the significance of a podcast?
Podcasts are considered to be highly essential, due to their innate ability to provide in-demand audio content to listeners and enable them to be entertained and extract information while they are on the go. Podcasts are the most convenient yet accessible platforms to share stories, ideas, experiences, and valuable insights over a wide range of topics. In such a busy schedule where people choose not to spend time watching long videos on Youtube, this is when Podcasts come as a rescue for all.
How shall I listen to an entrepreneurial podcast?
There are numerous ways that one can adopt in order to listen to a podcast. This can be done, either on the podcast app through your mobile device, or you can also listen on the web via your PC or laptop. Moreover, technology such as a smart speaker is also available along with a voice-activated device. The best entrepreneur podcast on Spotify is also available which is super easy to access and listen to. Once you have laid your hands on the right podcast, you can choose to either stream or download it to your device and prefer offline listening while you are on the go.
Are new episodes of podcasts released daily?
The answer to this question solely depends on the podcast. The frequency of some podcasts offers a release as soon as daily while others intend to release new episodes on a weekly or bi-weekly basis. Some of the episodes are also, at times, released on a monthly basis.
Can I start with my own podcast?
Of course. Anyone can begin with their own podcast as long as they believe in themselves for holding the appropriate knowledge for a specific topic. To start with your personal podcast, all you need to have is a microphone, recording equipment, along with an appropriate theme. You can regularly upload your episodes to different platforms such as Apple Podcasts, Spotify, or more.
Are podcasts free to listen to?
Most of the platforms offer free podcasts to listen to while some of them may require a subscription with a certain amount, which will enable the podcast availability to only the paying members. There are also various podcasts that involve advertisements and sponsored messages, at times.
Conclusion
If you are in the midst of building your startup and are stuck with the directions, then by now, you must know that podcasts can be your real deal to extract plenty of information!
Podcasts can help you feel intimate and relatable as they are a perfect balance of information and inspiration for anyone who is looking ahead to delve into such topics for growth without having much time to watch long videos.
With more people having to lay their hands on binge-worthy media, this can be your pick!
Aspiring entrepreneurs, are you ready?